PVC Solutions
Used in temporary or permanent signage, PVC supports from 3 to 10 mm offer a good compromise between cost and lifespan.

PVC panels are perfectly suited for any type of interior wall or hanging signage, cut letters or covering intended for pedestrians or vehicles.
PVC is a material with the advantages :
     Temporary or permanent signage use,
     To be inexpensive.
The decorations applied are :
     Either made of "Long Life" adhesives tinted in the mass for better color rendering,
     Either made in eco-solvent digital prints.

 Le + TTS  :
With this type of material and our 3-axis digital machining process we realize customizable geometric shapes at low cost. 
Dimensions
 3 et 10 mm d'épaisseur
Modes de fixation
 Mural (collage ou vissage)
 Suspendu
Options
 Décor simple ou double face
 Plastification anti UV et anti graffitis

Detailed section of an expanded PVC :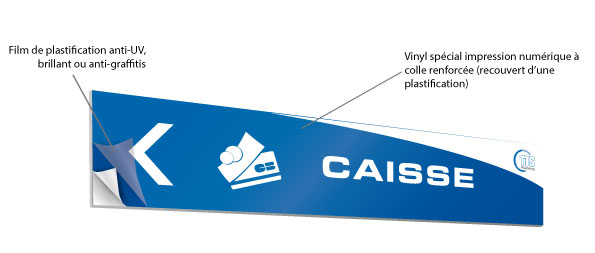 References and standard dimensions :
* For any other custom dimension: contact us
Carré 
 
Simple face
Double face
Dimensions (mm)
PVC 3mm
PVC 10mm
PVC 3mm
PVC 10mm
300 x 300 
Ref : ECS0001

Ref : ECS0007

Ref : ECS0013

Ref : ECS0019
Rectangulaire petit 

 
Simple face
Double face
Dimensions (mm)
PVC 3mm
PVC 10mm
PVC 3mm
PVC 10mm
300 x 400
Ref : ECS0002

Ref : ECS0008

Ref : ECS0014

Ref : ECS0020

600 x 800
Ref : ECS0003

Ref : ECS0009

Ref : ECS0015

Ref : ECS0021
Rectangulaire grand 
 
Simple face
Double face
Dimensions (mm)
PVC 3mm
PVC 10mm
PVC 3mm
PVC 10mm
1000 x 200
Ref : ECS0004

Ref : ECS0010

Ref : ECS0016

Ref : ECS0022

1300 x 200
Ref : ECS0005

Ref : ECS0011

Ref : ECS0017

Ref : ECS0023
Fronton 

 
Simple face
Double face
Dimensions (mm)
PVC 3mm
PVC 10mm
PVC 3mm
PVC 10mm
2500 x 400 
Ref : ECS0006

Ref : ECS0012

Ref : ECS0018

Ref : ECS0024