09/21/2021 - Grenoble, TTS supplied 15 sets of dynamic parking lot staking with Full-Color matrix display.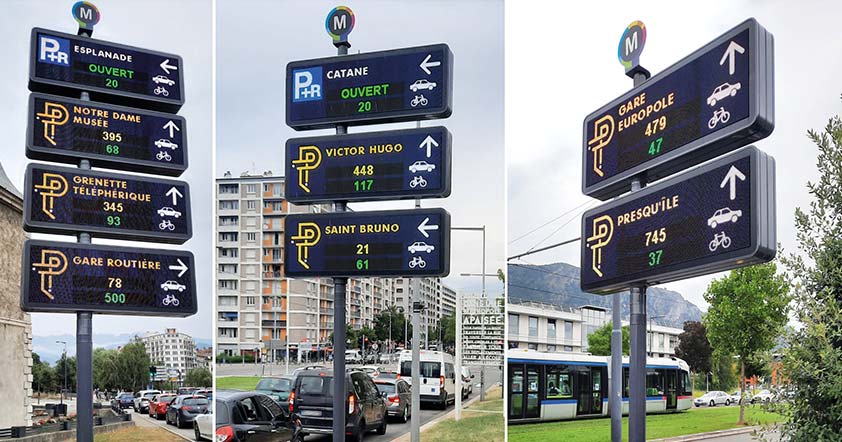 A pioneer city in dynamic road signage equipment, Grenoble installed the first dynamic parking staking in France in the heart of the 1980s. 35 years later it sets a new page in its status as an innovative city in the field of intelligent transport, by deciding to choose TTS and its specific Full-Color display technology to complement its dynamic parking staking equipment.
With this type of panel with ultra-flexible display possibilities, the city is equipping itself with a system capable of changing the information displayed in complete autonomy, according to specific scenarios linked to parking lot occupancy conditions. Located at various strategic points in the city, our equipment points in particular to the various relay car parks available, easily recognizable with their specific "P + R" pictogram.
The objective for this type of action is always the same "to guide the user as effectively as possible to a free space close to his destination". This need is particularly important for a city like Grenoble, whose geographic location exposes it to recurring air pollution problems.
In addition to displaying the precise count of the number of vehicle spaces available, for each car park with a specific parking area for bicycles, our equipment also relays the number of overall parking spaces for bicycles. In a city so focused on soft mobility, it's good to keep in mind that parking and road signs are not just about cars.
Access the information relating to parking in the city of Grenoble car park and relay car park
from this link.