The TTS Parking Design and Signage Office

Since 1992, we have carried out
more than 8000 parking signage projects
and even today we put all our know-how at your service to make your projects a success.

Our expertise in the implementation
of luminous (
Led it GREEN™
technology) or non-luminous signage and in dynamic display, through the study of accident-prone areas, management of routing and counting, compatibility with access control,
is a essential point for enhancing your parking heritage.
Our design office
identifies your wishes and defines, with you, your needs to guide your achievement.
What image do you want to give? What signature do you want to add to your signage? What budget do you plan to devote to it? These are all problems that we solve by your side. 
We support you
in the realization of your signage project by adapting to your charter, by creating a visual identity or a new design while respecting your budget.
In order to help you in your decision-making, various proposals, suggestions, models, layouts, simulations, scenario proposals, photomontages, recommendations, will be presented to you in order to conceptualize your signage.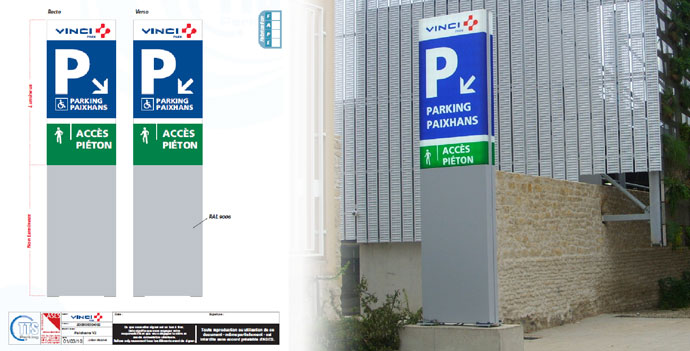 The services of our Design and Signage Office :
Creation of graphic charter      
Signage creation
Study of vehicle and pedestrian traffic flows on site
Study of the integration of signage into the environment
Consulting in project management assistance
Definition of needs and realization of CCTP specifications