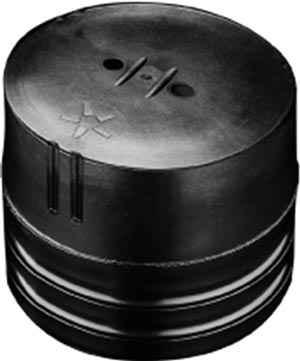 The recessed sensor is an intelligent parking sensor that detects the occupancy of each parking space in real time using dual detection technology (infrared and magnetic). As an integral part of the SENSIT platform, the SENSIT IR flush mount optimizes parking usage, reduces emissions and ensures a rapid return on investment.

Typical applications with the recessed sensor include on-street parking, truck and bus parking, and installations that require plow-resistant sensors with the highest detection accuracy possible.
Technical specifications
The mounting is fully recessed, making the sensor resistant to snow plows and reducing the risk of tripping. With a battery life of 5-10 years (depending on the type of application), these recessed sensors have proven to be a reliable and durable solution for parking detection.

Ultra-precise detection
This sensor is weatherproof and has magnetic and infrared detection. This dual technology ensures very precise vehicle detection. A sophisticated algorithm ensures that the detection is not affected by snow, dirt or leaves covering the sensor.

Fast and reliable communication
A unique feature of the sensor is its ability to communicate within a self-healing mesh network. Thanks to a fast and reliable network of repeaters and gateways.
sends its data in real time to the hosted server. In addition, the ability to communicate bidirectionally ensures that the VISIO'PARK interface software can easily request and verify the latest sensor events and perform updates.

VISIO'PARK interface
Using the VISIO'PARK interface software API, occupancy data can be easily integrated into third-party guidance systems, parking management software or smartphone applications. The VISIO'PARK interface software forms the basis for additional services and functions such as data analysis, planning and management, for example, loading / unloading areas, PMR areas.
| | |
| --- | --- |
| Power supply | Batterie au lithium intégrée |
| Protection | IP68, boîtier entièrement étanche |
| Frequency | 868 MHz (EU) |
| Estimated battery life | 5 à 10 ans (dans des conditions normales d'utilisation / dépendant de l'environnement) |
| Resistant snow plow | Oui |
| Resistance | Traffic intense |
| Detection | Magnétique et infrarouge |
| Communication distance | Capteur / nœud relais (directionnel) : max 50 mètres Capteur / nœud relais (omnidirectionnel) : max 35 mètres Capteur / passerelle : max. 25 mètres |
| Detection height | 0 - 90 cm |
| Required relay | Parkings : 1 par 50 capteurs. Stationnement en voirie : 1 par 25 capteurs |
| Weight | 350 g |
| Size (L x l x h) | Ø 78 mm et 72 mm |
| Color | Noir |